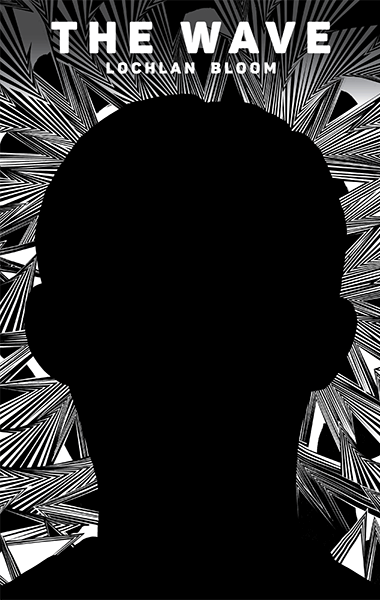 ISBN 978-0-9576985-6-7
FORMAT Hardback
DIMENSIONS 220mm x 140mm
RELEASE DATE 29/01/16
Part of Dead Ink's New Voices 2015 series, The Wave is an upcoming literary fiction novel that blends elements of metaficiton, screenplay and historical fiction.
Partially set in the Canadian province of Alberta, The Wave combines the intertwined stories of μ, an isolated loner, DOWN, a troubled publisher, and David Bohm, a real-life quantum theoretician in post-war São Paulo.
All three of the characters are forced to question the thin line between reality and fiction as they struggle to make sense of the fantastical world around them and their stories become entangled.
The closer each of these trails leads to the dark centre of the world the more reality disintegrates.  Dualities of certainty and doubt, hope and fear, and reason and nonsense drag each of the characters struggling into an absurd, labyrinthine world of seemingly infinite regress.
The novel will be published on January 29th 2016 as part of Dead Ink's PublishingTheUnderground campaign which combines crowd-funding, membership and specialist author events.
It has already been described as "haunting, existential" and "reminiscent of the best of Kafka mixed with quantum physics. A book you will want to read more than once." by BookHive and is one of three hotly anticipated debut novels the press will be releasing over the course of the campaign.
The Wave is available for pre-order here: www.lochlanbloom.com.
Latest British literary talent
The press is already looking ahead to next year and this month opened submissions for next year's list.
"New Voices represents the latest in British literary talent and it is a chance for the previously unheard to be showcased on the Dead Ink platform. What this means is you have to support one of the 2015 authors if you want to be one of next year's authors. That's what we're trying to build with Publishing the Underground – a collaborative organisation that supports new writing across the country," Nathan Connolly, publishing director of Dead Ink explained.
The first phase of the Publishing the Underground project is a crowd-funding project running until the start of December, when the first book in the series will be published. As well as membership and the various other rewards, readers can of course pre-order the books themselves which are available as limited edition hardbacks.
"It's a really exciting time to be doing this and we are seeing lots of interest already from some established players. It feels like the time is right for a real shift in the way the industry connects with readers," Connolly said.
About the author:

Lochlan Bloom is the author of The Wave. The BBC Writersroom describe Bloom's writing as 'unsettling and compelling… vivid, taut and grimly effective work' and he has written for BBC Radio Scotland, H+ Magazine, Ironbox Films, Litro and Calliope amongst others.

For more details visit www.lochlanbloom.com.